Do you need to send a parcel that is extra large or super heavy?
Perhaps you just can't make your item fit into a medium sized package, or perhaps the item itself is a large and bulky item. Whether you're a small business shipping products intentionally, or an individual sending gifts to a loved on the other side of the world – there are a few things to consider when sending large parcels overseas.
Thankfully, here at Irish Parcels, we're experts at this kind of thing. We specialise in parcel deliveries throughout Ireland, the UK and to over 200+ countries worldwide. The services that we offer are particularly competitive for larger or heavier items over 5kg, so from our own experience, we're here to lend our advice for sending large parcels overseas to ensure they arrive quickly and safely.
 5 Top Tips For Sending Large Parcels Overseas
1. Check courier restrictions.
Whether or not you can send a large or heavy item will of course depend on the courier that you choose. Many couriers will have a variation of restrictions placed on different services, so it is important to check these as not doing so could result in a fine set upon by the courier, or the item being returned back to the sender.
2. Research country-specific regulations.
For example, an item being shipped to Australia must be clearly masked if its weight exceeds 55kg. These kind of policies are set in place to ensure that heavier parcels can be handled safely when they arrive in the destination country. It's important to research these regulations before sending your heavy parcel to ensure you are taking all of the necessary steps to keep your item safe as it arrives at its destination.
Keep in mind that every country will also have regulations about what can and cannot be imported. Double check, even triple check that the large parcel you're sending doesn't contain any prohibited items to avoid any issues.
Bonus tip: Don't forget, if you are sending your large parcel outside of the EU, you will be required to complete customs documents in order to declare the contents and value of the items contained in your parcel. On these documents, you will also be required to declare the weight of the parcel, so be sure that this information is accurate.
3. Package parcel securely.
As with any item of any size, packaging your parcel securely for transit is vital. At Irish Parcels, we always urge our customers to package their items in strong, double-walled cardboard boxes – especially if it is a heavy or large item. A double-walled box is sturdy and durable, and much less likely to collapse, tear or open under pressure.
If your item requires specific packaging due to its larger size or heavier weight, such as a pallet, be sure to consider this necessary step before sending it on its way.
4. Online parcel tracking.
Sending your large parcel with a reputable courier service that provides online tracking is always a good idea. With full access to online tracking, you will be able to monitor the progress of your shipment as it makes its way to its destination. You will be able to keep an eye out for any red flags, and will be able to get in touch with the courier if you have any concerns. You'll also be notified when your item is out for delivery, so you'll know exactly when to expect it.
At Irish Parcels, we offer full online parcel tracking on all of our shipments. If you have any questions or concerns about your shipment, our dedicated customer service team is always happy to help.
5. Keep your options open.
Before selecting your courier, do your research to ensure that you're getting the very best value for your money. It's no surprise that shipping large and heavy items will be more costly than the average sized parcel, however taking the time to find a reputable courier means you have that extra peace of mind knowing that your items will be handled with the utmost of care, making it a worthwhile cost.
At Irish Parcels, our prices are particularly competitive for large and heavy items. Get a quote from our homepage to compare prices and shipping times between a network of reliable couriers. Making use of courier comparison services is a guaranteed way to save on large, international parcel deliveries.
So that's our expert advice on sending large items overseas. If you still have any questions after reading, please get in touch with us and we'll always be very happy to help!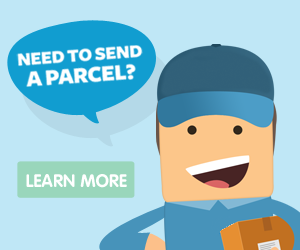 More blog posts:
Top 10 Strangest Customs Regulations From Around The World
How To Ensure Your Parcel Arrives Safely – 8 Expert Tips
4 Mistakes To Avoid When Shipping A Parcel To America
Learn more:
Our International Courier Prices