How To Ensure Your Parcel Arrives Safely – 8 Expert Tips
Safety is a top priority when sending a parcel.
"Damage", "delayed" or "lost" are words that no one wants to hear. When you hand that package over to the delivery driver, you need to know that it will arrive at its destination in perfect condition.
If you choose a reputable courier (see our list of couriers), your parcel is more likely to arrive safe and sound, but there are a few extra steps you can take to ensure your package is delivered unscathed.
1. Perfect Packaging
When you send a parcel by courier, it's important to consider all the stages of transit it will go through. For example, it will be sorted using a machine and transported in a vehicle alongside tens or hundreds of other items of all shapes and sizes.
Best practice is to pack your item in a strong, double-walled cardboard box with bubble wrap and packaging peanuts. Good packaging will significantly reduce the likelihood of your parcel collapsing under pressure or tearing. You can read more of our packaging advice in our blog post: 8 Mistakes To Avoid When Packaging Your Parcel.
2. No Prohibited Items
Before booking with a courier, always check that your parcel contents can be sent on the service. This is of particular importance if you're shipping an item overseas, as countries (especially outside the EU) have their own customs rules and regulations.
In addition to checking the country's own rules, be sure to read the courier's list of prohibited items. If you were to send a prohibited item, your shipment may be delayed, refused or sent back and you will be unlikely to receive any compensation.
You can take a look at IrishParcels.ie's prohibited and non compensation list here.
3. Fill In Customs Forms
Speaking of customs… when you are sending an item outside the EU, you will need to complete customs documents and attach them to your item. (At Irish Parcels, we will send you these forms to complete after booking.) In these forms, you declare the content and value of the items you are sending.
Although your courier provider may be able to give you advice with regards to these forms, it is always the customer's own responsibility and failure to do so could again result in delays, refused delivery or a big unpleasant bill for customs charges.
4. Track Your Items Online
Always book with a courier that provides online tracking information. Again this of most importance when shipping overseas.
As couriers collect and deliver thousands of parcels every single day, they are unable to monitor each item individually. With online tracking, you can follow your shipment every step of the way and alert the courier if you notice any issues.
Online tracking will also notify you when your item is out for delivery, so you'll know when to expect its arrival.
5. Take Cover!
If you are sure that your items are safe to send – in terms of contents and packaging, always take out compensation cover.
This means that in the event of damage, loss or long delays, you may be entitled to some money back.
At Irish Parcels, we offer €50 free compensation cover per item, which you can increase up to the value of €1,000 during booking, for a small additional fee, if you need to do so.
6. Address Details
This sounds obvious, but when sending a parcel, make sure the address details you enter are completely correct. Typos are easy mistakes to make and incorrect address details are the cause of most issues with couriers. Even just the slightest typo or formatting error can cause your item to be delayed or returned to sender.
This applies mostly to international addresses which are most often formatted completely differently to Irish addresses. If you're unsure, we always recommend Googling the address you are sending to or double checking with the recipient.
7. Secure Your Labels
Once you're absolutely 100% sure that the addresses are correct, you'll need to print out your labels and attach them to your parcel.
Again, this sounds straightforward, but when labels are not securely fastened, they can become easily removed from the package and cause your delivery to be significantly delayed or even lost.
We recommend putting your labels inside a plastic wallet or polypocket and securing them with parcel packaging (brown) tape.
8. Use A Reputable Provider
And finally, the best way to ensure your parcel is delivered safely, is to use a reputable courier.
For example, at Irish Parcels, we use TNT, GLS and DPD to carry out our deliveries. They are trusted names that most people and businesses are familiar with, because they have a longstanding reputation for quality service within the courier industry.
Do not use a courier that does not have a website, a contact number or a customer support team.
If you have any questions about parcel deliveries, get in touch and we'll be happy to help!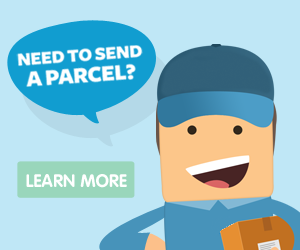 Learn more:
Ireland To UK Courier Services