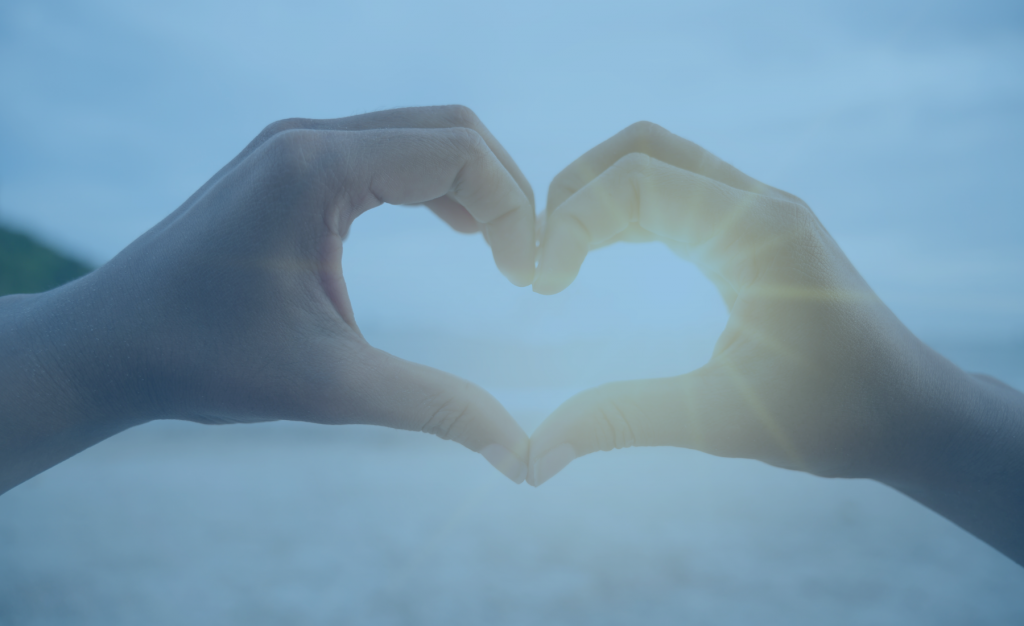 Valentine's Day 2023 is just around the corner! And, there's still that niggling thought on many people's minds, "where to go on Valentine's Day?"
Whether you choose to spend Valentine's Day with your partner, close friends and family, or just enjoying your own company, we've got some ideas for what you can get up to. If it's a meal in a nice restaurant, an overnight stay, or simply to get outdoors, we've got all angles covered.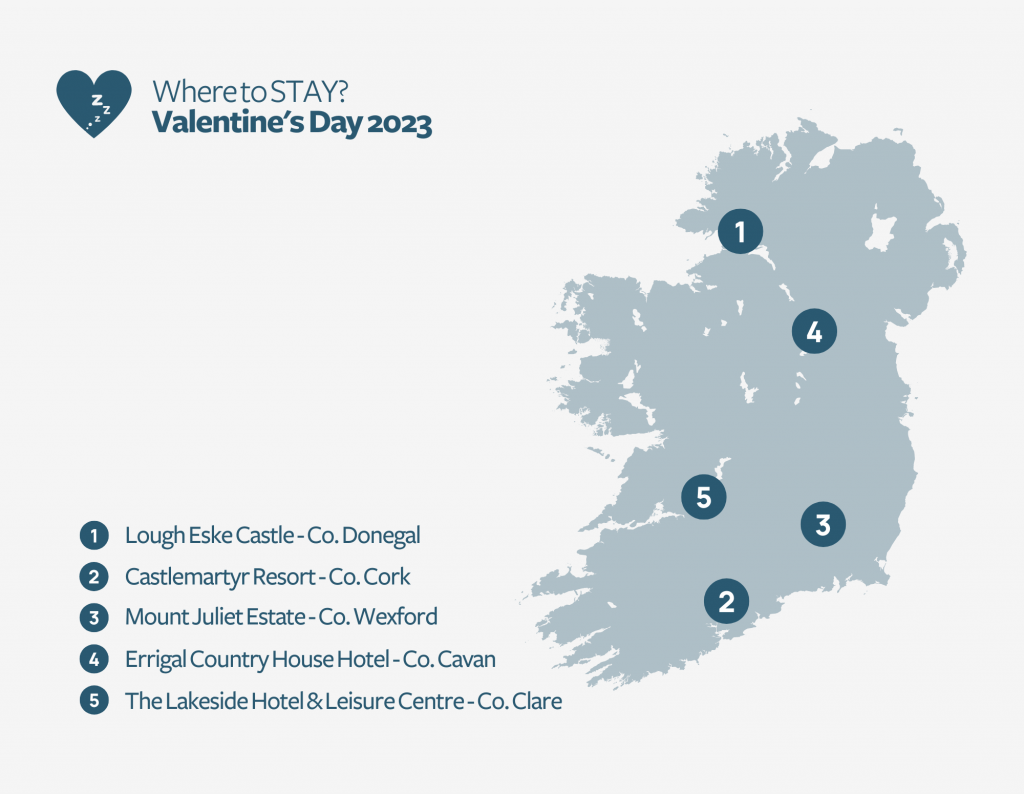 We're so fortunate to have a great selection of hotels right across the country, and so many of them are ideal to celebrate Valentine's day. Whether it's for a romantic getaway, something authentic, or a weekend of luxury, our top 5 picks will have something for you! From the picturesque Lough Eske Castle tucked away from the hustle and bustle, or the Castlemartyr Resort providing a luxurious, relaxing and romantic retreat. For something intimate the elegant Mount Juliet Estate is ideal, or just to unwind and take in the beautiful scenery of the River Shannon, it has to be The Lakeside Hotel & Leisure Centre! Regardless of which one you choose, they're all sure to leave a lasting impression.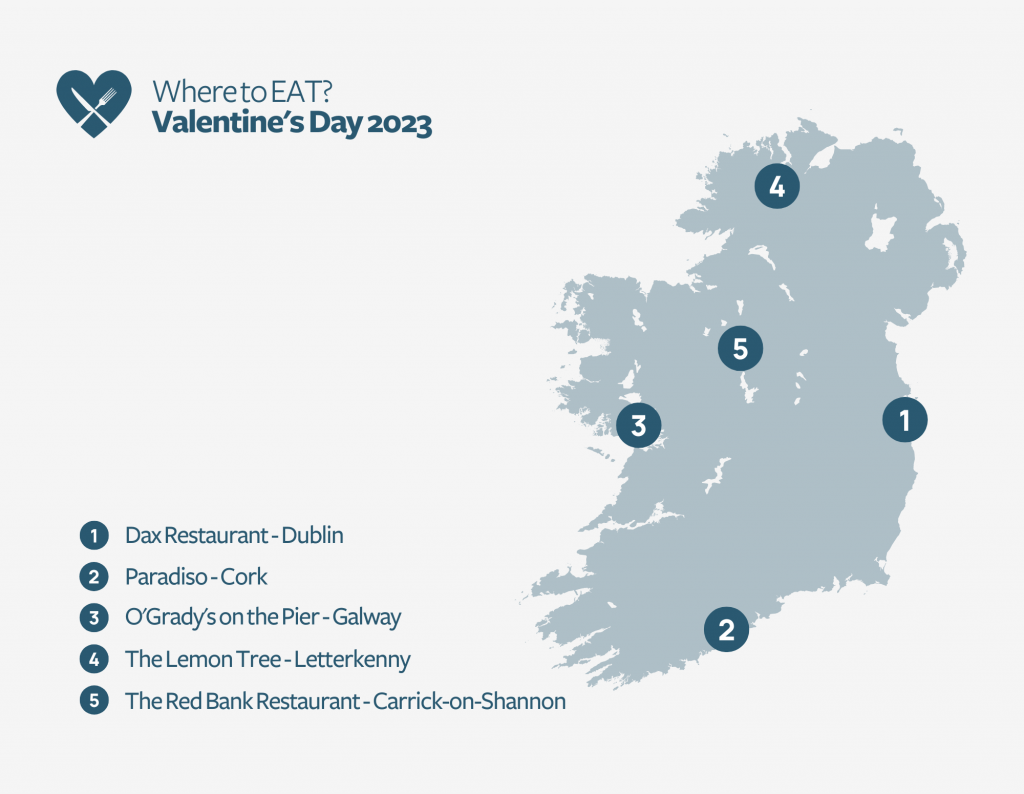 For an unforgettable Valentine's Day meal, one of our top 5 picks should be to your taste! The Dax Restaurant in Dublin is a Michelin-starred restaurant that is ideal if you're wanting something luxurious and a little special. O'Grady's on the Pier in Galway is a wonderful option, beautifully positioned with stunning views of the harbour and of course the delicious seafood dishes. For Irish Cuisine with a modern twist, the Lemon Tree in Letterkenny is a great choice. And the Red Bank Restaurant in Carrick-on-Shannon is a cozy spot with a fantastic menu and a warm, friendly atmosphere. Finally, for those wanting a unique dining experience it has to be Paradiso in Cork, offering a fabulous variety of vegetable cuisines.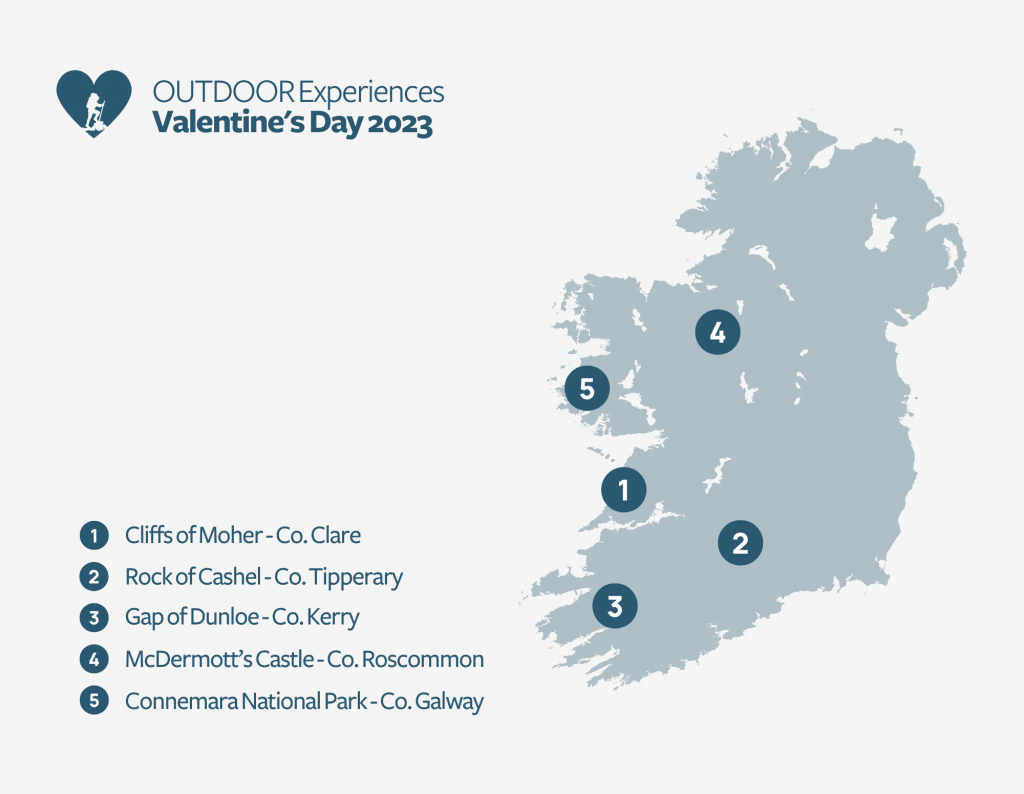 For a romantic and unique escape, why not consider visiting one of the stunning locations around Ireland. There's so many choices from the breathtaking Cliffs of Moher, to the majestic Rock of Cashel, there is something special waiting to be explored. For a more adventurous outing, you can also explore the Gap of Dunloe or take a trip to Connemara National Park. Each of these stunning locations are just as good as the next, it's a difficult choice we know!
Whatever you get up to this Valentine's Day, we hope it's a great one!