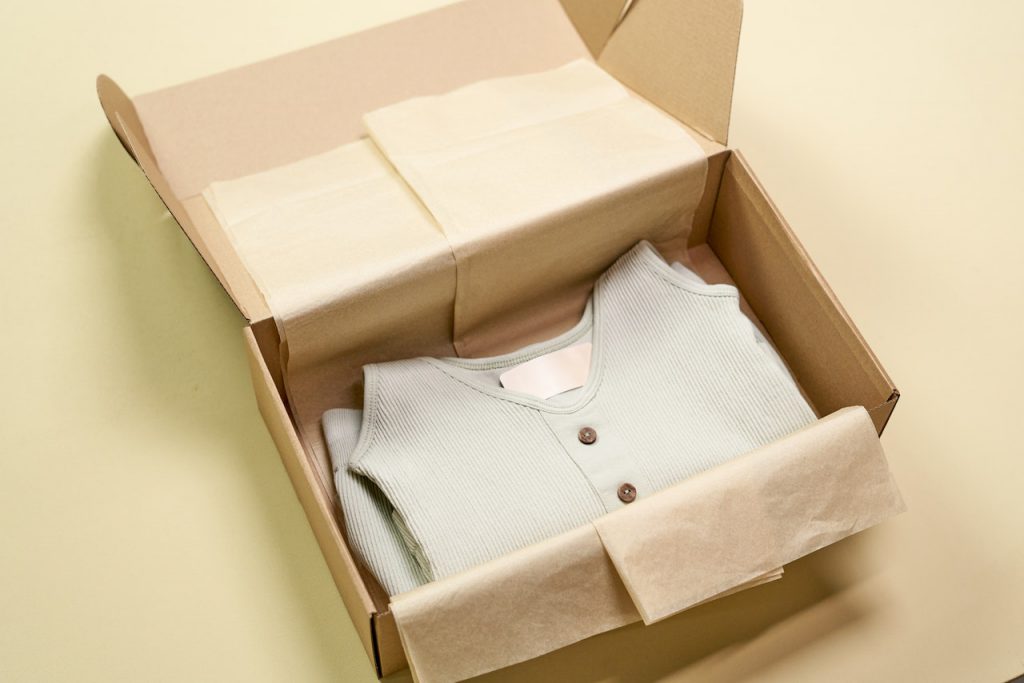 The closest your company will get to giving your customers a personalised touch is through eCommerce packaging. The best eCommerce packaging combines the appropriate box and infill for the finest unboxing experience. These minor adjustments transform the packaging of your product from a standard delivery to a totally unique one. BUT you need to remember that your shipping and production expenses will be impacted by the eCommerce packaging you use. Weight and price are crucial factors to take into account since when boxes get bigger or the infill gets heavier, the cost of shipping a product can go up. Returns are another way that packaging and filling can affect your bottom line. A well-packed order will arrive undamaged. Damaged products and dissatisfied customers will result from eCommerce packing that can't withstand the delivery process.
The following is our guide to creating packaging for your e-commerce products…
Bag or Box?
The box or bag that will be used to pack all of your products comes first on the list. When your client opens their mailbox, it will be the first thing they see. If branded packaging produces a memorable experience, it can be worth the cost (especially because some consumers reuse their boxes). Packaging options have expanded along with the quantity and variety of goods supplied via eCommerce.
Cardboard Boxes
For the majority of the business, corrugated cardboard boxes continue to be the preferred packaging for eCommerce. Cardboard is strong, doesn't significantly increase the weight of your product, and is recyclable. Double-walled cardboard adds an additional layer of strength and protection for items that are extremely fragile or heavy. Sometimes a product is packaged in a shipping-friendly box of its own. But occasionally it makes sense to cap it off with a simple brown cardboard box.
Wallets and Bags
A plastic shipping bag is a wonderful option if you offer lightweight, non-fragile items. Bags and envelopes are compact, self-sealing, sturdy, and lightweight. For sending minor apparel orders, they are effective. Instead of over-boxing a tiny item, you can place it inside an envelope or bag. These mailers have the added virtue of being waterproof.
Padded Envelopes
An effective delivery method for tiny or flat objects is a padded envelope. Some are easier to recycle because they are cushioned with shredded paper. Although less environmentally friendly, padded envelopes filled with bubble wrap are quite protective.
Successful Ecommerce Packaging Relies on Infill:
In order to prevent your products from shifting during delivery, you almost always need to add infill to the boxes you ship them in. Infill provides additional stability and padding to guarantee that your items arrive intact. There are numerous infill options available. One of the biggest shippers in the world, Amazon, combines brown paper and air-filled cushions. There isn't a single, perfect solution for infill. You'll need to plan according to your particular merchandise and shipping.
Kraft Paper
One of the most adaptable and flexible materials for package infill is brown kraft (brown) paper. It is simple to crumple it to fit any infill requirement or easily rip it into sheets of any size you require. The fact that Kraft paper may be recycled endlessly is another advantage. Kraft paper requires less chemical input than items made from bleached white paper. You can also find kraft that is manufactured from recycled paper.
Air Pillows
The plastic sacs filled with air known as "air pillows" are becoming a more popular sort of infill. One of the lightest filler materials for eCommerce packaging, they are. Air pillows may be the least expensive option if you're worried about the weight of your delivery and require a lot of filler. Although they can sometimes be recycled, it's a sure bet that the majority of them end up in landfill.
Packing Peanuts
The traditional filler, packing peanuts, can be messy and annoying to work with or receive. This can lead to issues with packing and unpacking, and as Styrofoam cannot be recycled, there may also be issues. However, packing peanuts manufactured from corn flour are much easier to discard and far more environmentally beneficial.
Bubble Wrap
The best protection for delicate items is bubble wrap. The bubbles are enjoyable to pop too! Customers can view the bubble wrap infill as more than just packing and more of a bonus. You might want to let your consumers know that many locations that now accept plastic bag recycling will also accept bubble wrap, allowing them to enjoy their popping in a secure, environmentally friendly manner.
Shredded cardboard
Infill made of shredded cardboard is a fantastic way to recycle while wrapping. All you need is a machine that transforms used cardboard into sheets that can be folded into an accordion. These sheets can be used to safely wrap fragile items during delivery. It's also simple for customers to remove and recycle at the other end.
Finishing Touches for your eCommerce packaging:
Packaging for online sales involves more than just the supplies you employ to deliver products to clients securely. In addition to the contents, what you place inside the box can have a significant impact. Consider it the tangible representation of your brand voice.
Put The Receipt In
Surprisingly, the receipt plays a significant role in the packaging process. Although it frequently goes unremembered, your customers anticipate an itemised receipt for the order. Don't just attach a receipt; make it stand out. Ensure that it enhances and supports your entire branding. Your receipt can enhance your order with a little imagination.
Apply stickers
Stickers are perhaps one of the simplest and least expensive methods for in-box branding. They can be used to embellish the outside of the box or the carrying bag or to hold down tissue paper around the product. A few extra stickers can be added as a freebie. You will receive free promotion as a result.
Eco-Friendly eCommerce Packaging:
The consumer of today has a wide range of eCommerce possibilities. They want to make purchases from people who share their ideals. Eco-friendly packaging can frequently assist you in demonstrating that common value and culture. But not everybody will be aware of what can be recycled. Include a remark on your label explaining how to properly dispose of the materials if you utilise compostable fillers or components, such as bags made of vegetable starches.
Keep in mind that your packaging and infill are not static. Keep refining your packing methods and supplies. You might wish to update the design and feel of your eCommerce orders as your business develops. You will also have access to newer, greener, and more appealing packaging and infill alternatives as packaging materials and methods advance.