If you have a wardrobe jam-packed full of items gathering dust, Depop is a great way to clear some clothing space and make some cash in the process.
For those unfamiliar with the Depop phenomenon, it's a hugely popular mobile app marketplace, used by millions of people to buy and sell clothing.
Depop is at the forefront of a new wave of online shopping, with its Instagram-esque interface and eBay like experience.
Provided you have a great item for sale, anyone can make a profit on Depop and we've created this handy guide to making money on the platform.
Picture Perfect
As Depop has a very visually similar interface to Instagram, your images are extremely important. Your picture is essentially your sales pitch so it needs to be perfect. You can add up to four images per item, so try to offer good quality, high resolution images of your item in natural daylight and from as many different angles as possible.
With clothing, it's always great to get a model shot of you, or someone else wearing the garment to show how it fits, as clothing can often look vastly different on the rail. Make sure you use your own image – it's prohibited to copy catalogue or website pictures of items and if you're found to be doing so, you could be banned from the site.
The Description
When describing your item, keep it brief whilst being as informative and accurate as possible. Enter the mind of the buyer and think about all the essential information you would need prior to purchasing, for example, the size, the material, the quality of the item and any issues with the garment. Include shipping details and let buyers know if you accept exchanges or refunds.
Pricing
Be competitive your pricing. Research the marketplace to see the price points of similar items and examine who your target audience is to determine an appropriate budget. For example, if you are selling items that appeal to 18 year old girls, it's unlikely that they will have a huge amount of disposable income to splurge on items.
Payment
Always accept in-app instant payment by connecting your PayPal account, as this gives you extra protection and also makes you more likely to feature on the app's prominent 'Explore' page, which will drive more visits to your products.
Interact
Being interactive on Depop and providing a good experience for the buyer is key to establishing a great reputation, increasing your followers and therefore your sales. Try to reply to all comments and messages and ship items as quickly as possible to keep your customers happy and make them more likely to repurchase.
Hashtags
Add a couple of hashtags to your product to make it more visable in searches. Be selective with your hashtags and only use a couple, as spammy hashtags will lead to your items being hidden.
Add A Personal Note
A great tip for improving customer experience is to provide a personal note to the buyer. You can also ask customers to leave you a rating which can help increase your sales.
Research Your Buyer
Check the profile of your buyer to see their ratings and comments to flag any potential issues. And be sure to take payment before shipping.
Promote
Think of Depop as your own little store and use your social media profiles as marketing channels to let people know about the items you have for sale. You can also provide exclusive discounts to your followers on each channel as an added incentive to buy.
Shipping
Of course, here at Irish Parcels, we're all about the shipping and have some great tips for sending items with Depop. The main point to note with shipping on Depop is that the site does not offer shipping labels so all sellers are responsible for packing their items and shipping them.
Firstly, ensure that your shipping is priced reasonably, but is still high enough so that you don't end up out of pocket. If you use Irish Parcels, you can get a quick, no obligation quote on our homepage, which you can check before listing your item.
Always use a reputable courier company and provide your customer with shipping information and tracking details so they know when to expect their item.
Only ever send to the delivery address listed in your buyer's profile. If you send to another address it will not be covered by the Seller Protection.
Keep your proof of postage. With Irish Parcels, we will send you a confirmation email once you've booked your delivery, which you can forward to your customer.
And finally, if you can, offer international/worldwide shipping as this can significantly increase your views.
If you have any questions about parcel deliveries, get in touch and we'll be happy to help!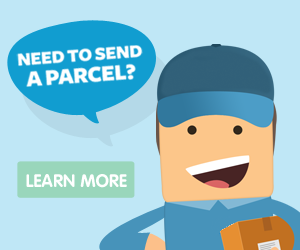 Learn more:
12 Tips For Sending A Parcel Abroad
4 Mistakes To Avoid When Sending A Parcel To America
Our International Courier Prices
Ireland To UK Courier Services