Okay – we realise we might sound slightly biased, but we have very good reason to believe that Irish Parcels is the handiest service on the emerald isle.
Irish Parcels offers a fast, reliable and affordable courier services; whether you need to send goods regularly or just need to send a one-off parcel. If you've booked with us before, you'll know exactly how handy our service is. If you've never booked with us before, here's a list of some really great reasons why you DEFINITELY should…
1. We're cheap!
When you book with Irish Parcels instead of going directly to a courier company, you can save up to 80% on your parcel deliveries! That's because we have negotiated fantastic low rates with our network of highly reputable couriers. Don't worry – you'll still receive the same high-quality service that these couriers are renowned for; but you'll get it for just a fraction of the price. What's more, if your parcel weighs over 2kg, we can be considerably cheaper than AnPost, too.
2. Our service is convenient!
Booking with Irish Parcels couldn't be easier. There's no complicated sign-up process – all you need to get started is your email address and the details of your parcel. For the utmost convenience, we offer a fully door-to-door service, which means all you have to do is book online, attach shipping labels (which we send to you) to your parcel and let allow us to take care of the rest! We'll collect your item and deliver it straight to where it needs to go. It really is that easy.
3. We care about small Irish businesses!
Irish Parcels is regularly used by hundreds of small, local businesses. We understand that keeping costs as low as possible is a priority for small businesses, and we're confident that we provide the most cost-effective shipping solution for them.
4. Full online parcel tracking!
When you book with us, you'll be provided with full online parcel tracking so that you can monitor the progress of your shipment every single step of the way. You'll be notified when your shipment is out for delivery, so you'll know when to expect it.
5. Dedicated customer support!
Again, we realise we might sound a little bit biased, but our customer support team are (without a doubt) the best in the business. Thanks to many years experience, our team are experts in the field of logistics. So, if you happen to have any questions or concerns along the way; you can contact our support team via phone, email or live chat and they'll always be quick to respond and more than happy to help.
6. We ship all over the world!
We don't just send parcels within Ireland. We send to mainland UK, all across Europe and to over 200 countries worldwide! So, if you fancy sending a care package over to your loved one in the land down under, we're the ones to give you a hand.
7. You don't even have to take our word for it!
Obviously, we have plenty of good things to say about ourselves. But you don't have to take our word for it. We have hundreds of independent reviews with customers saying all kinds of lovely things about Irish Parcels. So, if you need a second opinion to convince you, feel free to have a look at our most recent reviews!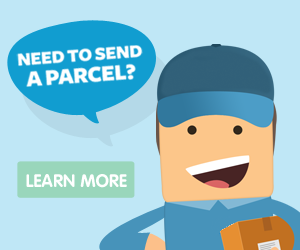 Read more:
5 Top Tips For Sending Large Parcels Overseas
How To Ensure Your Parcels Arrive Safely – 8 Expert Tips
 Learn more:
Irish Parcels – Courier Ireland