Courier Services Kerry
Need to send a parcel in County Kerry? Irish Parcels provides cheap, fast and reliable courier services to suit all kinds of needs.
You can save both time and money by sending your parcel with Irish Parcels. We provide easy online booking with secure payment, a convenient door to door service and full online parcel tracking to make the entire process as stress-free as possible.
Top Features Of Irish Parcels
Low cost courier prices.
Easy online booking process.
Super fast shipping times.
International parcel delivery from County Kerry to over 200+ countries.
Convenient door to door service.
Full online parcel tracking.
€50 free compensation cover on every single shipment.
Excellent customer support via phone, email and live chat.
How To Book A Courier Service In County Kerry
It only takes a few short moments to book your parcel delivery with Irish Parcels. There's no complicated sign up process – all you have to do is register your email address to get started.
Get a quote from our homepage by entering the specified details of the parcel being sent. We'll compare quotes from our network of couriers to offer you the lowest prices and fastest delivery times for your chosen route. Simply select your preferred service to book.
Once you've booked, we'll take care of the rest. We'll collect your parcel and deliver it straight to where it needs to go quickly and safely. It's that simple!
Convenient And Reliable Courier Services Kerry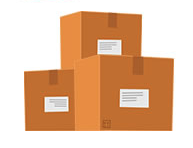 Irish Parcels works alongside a network of top couriers to carry out our deliveries. These include TNT, GLS and DPD. We have negotiated fantastic low rates with these providers, which means you get their high quality of service at a significantly discounted rate.
Booking with Irish Parcels is up to 80% cheaper than booking directly with the courier, and much more convenient.
With these highly trusted couriers, your package will be in the safest of hands. We provide you with a convenient door to door service to all homes and business addresses, and you'll also get access to full online tracking too.
For that extra peace of mind, if you happen to have any questions or concerns along the way, we have a dedicated customer support team who can help via phone, email and live chat. Don't hesitate to contact us with any queries you might have.
Fast Courier Services Kerry
As well as price, speed is a top priority when it comes to shipping parcels. That's why Irish Parcels provides Express delivery services, as well as Economy services.
We offer same day collection (if booked before 10am) and next day delivery on many routes. Simply get a quote to see the estimated shipping times for your parcel.
Compensation Cover and Prohibited Items
All Irish Parcels customers receive €50 free compensation cover on every single shipment. You can increase this amount up to the value of €1,000 for a small additional fee during the booking process, should you need to.
Before booking your parcel delivery, we highly recommend reading through our list of prohibited and no-compensation items to ensure your parcel will be covered.
International Parcel Delivery From County Kerry
Irish Parcels offers courier services to 200+ countries worldwide for extremely competitive rates.
Whether you're sending a gift to a loved one in the USA or shipping products from Kerry to China on a weekly basis, you could save with our low worldwide shipping costs.
Cheap Courier Services County Kerry
At Irish Parcels, we pride ourselves on our fantastic low rates.
We have no set size or weight limits, so that means you have the freedom to send heavy or large items at an incredibly competitive price. All of our shipments are priced on a parcel by parcel basis, so when you book with Irish Parcels you'll receive the very best value for your money.
Learn more:
Courier Ireland – Send A Parcel Online
Our Top Features – Irish Parcels