Convenient Door to Door Parcel Delivery 
Irish Parcels offers door to door parcel delivery within Ireland, to the UK and Worldwide.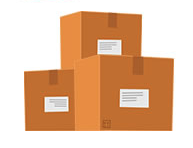 We offer collection and delivery to even the most rural Irish locations, to make things as convenient as possible when you need to send a parcel.
No need to make a visit to your local depot or collection point – the driver will collect and deliver your parcels straight to your front door. We also offer online parcel tracking, so you can keep an eye on your shipment every step of the way.
Easy Online Booking
Sending a parcel with Irish Parcels couldn't be more straightforward. All parcel deliveries are booked and paid for online. It takes just a few minutes to place your order. You don't need to create an account or complete a long sign up form. Irish Parcels is a pay as you go system, for the ultimate convenience.
Door To Door Service For Business Users
Irish Parcels helps hundreds of local businesses save money on their shipping costs and these business customers can expect the same excellent level of door to door service.
The driver will collect and deliver your parcel to your building's reception area. Or if you have a specific postal location for deliveries at your workplace, just note this when making your booking.
What If I Miss My Collection/Delivery?
Someone does need to be present at the address for collection and delivery, so please select a suitable date when booking.
If you miss your collection, call us as soon as possible and we can rearrange another. If you miss your delivery, the driver will make another two attempts or you can arrange to collect your item from your local depot.
Only The Best Irish Couriers
We work with only the best Irish courier companies, to ensure quality service. Our couriers include GLS, TNT and DPD.
Low Cost Parcel Delivery
This door to door service is factored into our great low prices – you don't pay anything extra for the convenience. When you get a quote for your parcel on our homepage, this is the price you pay, with no added extras. However you can choose to pay for additional compensation cover if you wish.
Learn more:
Small Business Shipping Solutions