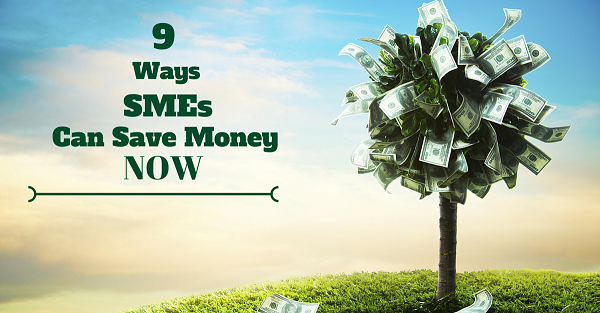 It doesn't matter how big your business is, how impressive your turnover is or how profitable your industry is – no company can really thrive without keeping an eye on those overheads.
Every business on the planet benefits from reducing overheads, but there's no denying that it's a much more pressing for small businesses, where every single penny counts.
If you're one of many small business owners that's on a shoestring budget (is there any entrepreneur who ISN'T?!), you'll know that fortunately, cutting costs even just slightly, can make dramatic improvement to your bottom line.
But finding costs worth cutting is the hard part.
So to help a little, we're taking a look at nine small immediate steps that Ireland's SMEs can take to save money right now.
1. Send it the smart way

Ok so, as a parcel delivery company we have to talk about what we know best – shipping costs.
A YouGov report earlier this year, in conjunction with eBay, found that 31% of small businesses believe that postage and delivery costs are limiting their overall expansion and 75% of firms believe that high international rates are preventing them from reaching overseas markets. Sound familiar?
The average small business spends €11,000 per anum on parcel deliveries (according to another local report from ComReg). But here's the good new – this is a significant spend which can easily be trimmed.
If your business sends parcels directly with couriers – either frequently or even just on occasion – you are seriously overpaying. Instead, use a comparison website like us – IrishParcels.ie. Customers can benefit from our contracts and reduced rates with major couriers which will decidedly lower your shipping costs. Businesses can stand to save up to 80% on parcel deliveries this way.
2. Value your workforce
If you've gone through the recruitment process, you'll know that hiring someone is expensive and exhausting. Staff turnover can be extremely costly, so focus on retaining your current staff member by keeping them satisfied with their jobs. Be flexible to their needs, evaluate their duties and discover if you can reduce contracts from full-time to part-time.
3. Think outside the box
It's a hotly debated issue for SMEs, but when done correctly, outsourcing can also help cut those operational and labor costs. Many startups avoid delegating to third parties in fear taking a risk, handing over control and added expense. But outsourcing to the right party will help you reduce spend, free up internal resources and allow you to focus on core duties. It's always best to leave tasks where you have less experience, in the hands of experts.
4. Bury your offline efforts
A good marketing department can help build a small business into an empire, but if you don't know what you're doing, it can just as easily see everything you've built crumble into dust. (That's perhaps a dramatic metaphor, but it's true nonethless!)
So many businesses throw money at TV, radio and print advertising because that's where their competitors are, it's what all the big brands do and it's familiar territory – it's traditional.
But if you're not as big as Sky or Coca Cola, it's NOT the most effective way of reaching your audience, growing your brand and increasing sales. Start focusing your attention to online advertising, if you don't already. Spend money on PPC advertising, Facebook ads, email marketing or affiliate marketing.
It's cheaper than advertising offline but more importantly, it's easier to target your specific customer base and it's easier to measure effectiveness and therefore streamline your spend.
5. Don't be a waste of space

If you have office space, make sure none of it is going to waste. Slim everything down as much as you can and see how much extra space is left. If there's enough consider renting the extra space or setting up an office-share system with another company.
6. Be friendly
And on that note – is there another company that you could team up with? One that provides a different product/service but still serves the same market as you? If so, put links on each other's websites, refer customers, put your brochures in each other's mail, share mailing lists or share stands at trade shows. Not only is it mutually beneficial for both businesses, it can also aid the customer and improve their experience.
7. It's easy being green
It's an obvious one, but wasting heat and light is just like opening your wallet, emptying the contents down the toilet and flushing it away. Turn off lights and exclude drafts or switch to motion censored lighting and heating so energy and electricity is only used when needed.
8. Go mobile
If you have a website, it MUST be mobile friendly. Especially if you're an online retailer, but not exclusively – all sites benefit from mobile compatibility. Smart phones and tablets are now the preferred method of internet access.
Online shopping and searching via mobile exceeds PC or laptop, so if people can not access your goods or service on their mobile, you are losing customers by the second. In the physical sales world, it's like setting up a shop miles away from town, in the middle of a field, surrounded by trees and hedges with a locked door that can only be accessed with passcode given to you by a wizard. If you're not visible, you're not found.
9. No experience necessary

There are a lot of benefits to hiring an experienced candidate; they have a reliable track record that you can trust, they know what they're doing and there's less training required. It's not that big of a risk and SME owners usually HATE taking risks.
But, what SMEs hate even more is overspending and unfortunately when it comes to hiring – experience is expensive…
Instead consider hiring a recent graduate. What they lack in background, they often make up for in enthusiasm and newly acquired knowledge. New graduates are tomorrow's leaders. They have less bad habits to correct and see the industry with fresh eyes and may have creative new ideas to help you grow.



New to IrishParcels.ie?
We're a brand new Irish courier! Visit our homepage to get a quote or find out more.