Strong visuals are key when it comes to building brand awareness.
If you run a small business, Instagram can be a great social media platform for you to portray the more visual side to your brand. It's an especially powerful tool if you have a product based company or a business where aesthetic is a major focus – like a hair salon, for instance.
There are so many ways in which using Instagram more effectively for your business can enrich your growth, so here are our 5 helpful Instagram tips for your small business.
1. Love the hashtag
What sets the hashtag on Instagram apart from any other social media platform is that you are wholly encouraged to use it as much as possbile – within reason of course.
Unlike Twitter, which recommends using at most two hashtags per tweet to avoid devaluing the strength of the Tweet, Instagram wants you to hashtag to your heart's content.
Each individual hashtag will instantly connect you with a user who is searching for something under that term – so use a good number of hashtags that are relevant to what you're posting and your brand.
To keep your image and the caption looking as aesthetically pleasing as possible, try posting your hashtags into a comment underneath the image, as opposed to having the caption section looking messy. Do post your hashtag quickly however, otherwise it will get lost in the Instasphere. The first few seconds after posting your image are vital.
3. Looks are everything
It's no secret that Instagram is all about the visuals.  Having clear, bright, interesting images with a running theme relevant to your brand can really draw people to your feed and want to keep coming back for more.
For example, is @brasseriesixty6 who regularly showcase mouth-watering dishes available from their menu on their Instagram feed. Their images are good quality, they post consistently and everything is in keeping with the overall tone of the brand. Seriously, this one will make you hungry.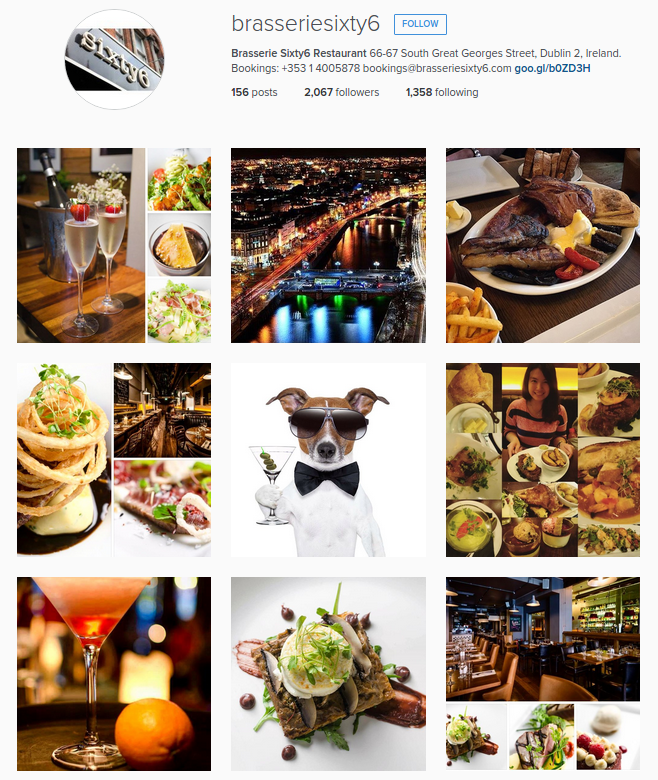 3. Look at the numbers
Iconosquare is a great tool which helps you analyse the statistics surrounding your Instagram. It tells you when your followers are most active and where they are inputting the most engagement.
Another wonderful feature of Iconosquare is that it allows you to see which of your hashtags are most successful – this will really help you to refine your list of hashtags down to what is working for you and what might need some tweaking.
4. Get to know your audience
Instagram is a community, as are all social media platforms. And so it is so much more than simply uploading a photo and running. Engage with your followers and you will reap the rewards, building a reputation as a relatable brand that cares about feedback. Ask questions in your captions and take the time to respond to your comments.
@benefit_ire are pros at engaging on Instagram. They are forever re-gramming people who use their products, asking their audience questions and holding giveaways! This kind of engagement always makes the audience feel valued and like part of the brand, and people are always going to love a brand with a friendly and approachable personality.
5. Be consistent and persistent
Consistency is an important factor when it comes to growing your Instagram following. It will never look good to see that your latest post was 12 weeks ago. But likewise, over posting will drive people towards that 'unfollow' button. Posting on your Instagram once a day is plenty and enough for your audience to want to keep coming back for more. Quality over quantity is key – particularly with such a visual platform.
Irish wax brand @waxpertswax are always on top of their game with this. They regularly post top quality content that is relevant to their brand. Their is always fresh and exciting for their audience – which ultimately keeps people coming back for more.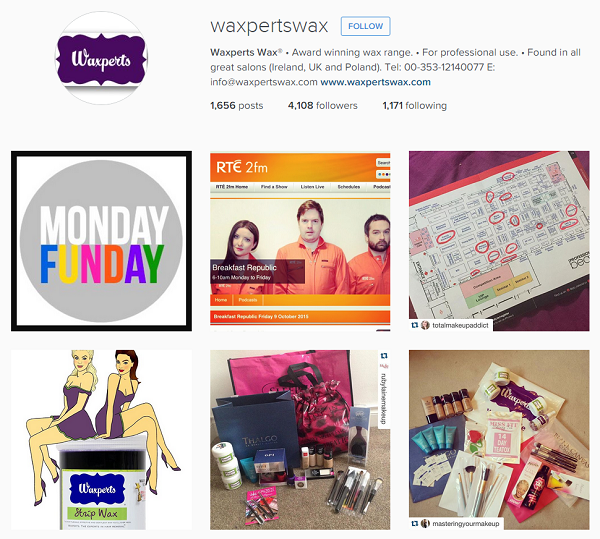 Instagram is one social media platform that can be quite difficult to grasp, especially in terms of growth and engagement. That's why it's so important to be persistent – it's one social media platform that is likely to creep up more gradually than the rest – but over time you will see your efforts paying off.