Courier Services Louth
Need a courier service in Louth? Irish Parcels offers a convenient and affordable courier service to, from and across Louth!
Whether you're a Dundalk based business needing to ship and distribute products internationally, or an individual needing a parcel collected in Drogheda as soon as possible – Irish Parcels can help!
Top Features of Irish Parcels
Low cost courier rates to, from and across Louth.
Easy and secure online booking and payment.
Super fast delivery times.
Convenient door to door parcel collection and delivery.
International parcel delivery from Louth to over 200 countries worldwide.
Full online parcel tracking.
€50 free compensation cover on every single shipment.
Excellent customer support via phone, email and live chat.
Reliable Parcel Delivery
Irish Parcels provides courier services from a network of top Irish and international couriers, renowned all across the globe for their high quality services. These include DPD, TNT and GLS.
We have negotiated great low cost deals with our trusted couriers, and so we are able to offer their fantastic services to you at a significantly reduced prices. That means when you book with Irish Parcels you still get the same high level courier service, but at a much more affordable price!
Booking with Irish Parcels is up to 80% cheaper than booking directly with the courier.
You'll receive access to full online parcel tracking so that you can monitor the progress of your shipment as it makes its way to its destination. And for that extra peace of mind, we have a dedicated customer support team who can help via phone, email or live chat should you have any questions or concerns along the way.
Fast Courier Services – Louth
At Irish Parcels, we understand that when shipping items anywhere, time is of the essence. That's why Irish Parcels offers super fast delivery times on all shipments.
We offer same day collection (when booked before 10am) with next day delivery available on many routes.
You can even send parcels internationally without having to wait weeks for delivery! We deliver to over 200 countries worldwide, with delivery times of 1-5 days depending on your route.
To see delivery times for your area/route, simply visit our homepage to get a quote.
Compensation Cover and Prohibited Items
Irish Parcels offers €50 free compensation cover on every single shipment. If you need to increase this amount for any reason, you can do so right up to €1,000 for a small additional fee during booking.
Before choosing your compensation cover, we strongly recommend reading through our list of prohibited and no-compensation items to ensure your parcel will be covered.
Send a Parcel to Over 200 Countries Worldwide From Louth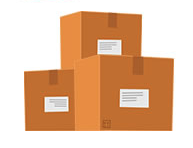 Whether you are a small business needing a reliable courier service to be able to export internationally, or if you're an individual wanting to send a present to a loved one across the globe – no matter the reason, Irish Parcels can help you get your items overseas quickly, easily and at a great low cost.
Irish Parcels ships to over 200+ countries worldwide, offering fantastic low prices and super fast shipping times on items sent abroad. Simply visit our homepage to get a quote.
Effortless Door to Door Service
Using our network of reliable couriers, we are able to offer a convenient door to door collection and delivery service from all addresses in Louth. That means that everything can be done from the comfort of your own home – from the booking, to the collection, to the tracking, to the delivery! Irish Parcels saves you from all of the hassle.
Cheapest Courier Services – Louth
At Irish Parcels, we pride ourselves on offering the lowest prices for the best services. We have no set size or weight limits, so you can even send large or heavy items at a surprisingly affordable price.
All of our shipments are priced on a parcel by parcel basis – that is how you will always know that you're getting the very best value for your money.
Learn more: