Expat International Shipping Services
Irish Parcels provides low cost shipping to 200+ countries worldwide and our services are used by Expats around the globe when it comes to relocating their luggage and belongings.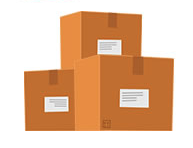 Whether you're sending a number of large boxes or just one small package abroad, Irish Parcels provides a cheap, convenient and quick expat shipping service that will deliver your item internationally, in a flash.
We have some of the cheapest international shipping prices and can save you up to 80% compared to other couriers and shipping companies.
You can get an exact quote from us any time! It takes two seconds – no sign up required!
Expat Shipping – Our Top Features
Low cost international shipping.
Delivery to 200+ countries worldwide.
Fast shipping times.
Easy online booking and payment.
Door to door parcel collection and delivery.
Full online parcel tracking.
€50 free compensation cover per item (this can be increased up to €1,000 during booking).
Dedicated customer support via phone, email and live chat.
Moving Abroad
Relocating abroad is an exciting time, but a stressful one nonetheless. As you begin a new chapter in your life, there's a lot to prepare – with countless forms to fill out and a mountain of things to organise.
Any way of making the transition less stressful is always welcome – and that's where Irish Parcels comes in.
Our expat shipping service takes all the difficulty out of moving your luggage and belongings abroad. Not only does it take just a few minutes to book; once you've placed your order, you're job is done! We'll take care of the rest by collecting your items from you and delivering them quickly to where they need to go.
Fast International Shipping
Our Expat Shipping Services include super fast delivery. Exact delivery times will depend on your route – we will provide you with an expected delivery date when you get a quote.
We offer Express services of 1-2 days on many of our international routes. We provide full online tracking so you can monitor the progress of your shipment every step of the way.
Safe and Reliable Delivery Abroad
Price and speed are both extremely important when sending parcels internationally, but we know that reliability is a top priority too.
We understand that no one wants to hand their luggage and treasured belongings to a company they don't know or trust.
At Irish Parcels we strive provide a safe and reliable international shipping service, by using only the best couriers in the business to carry out our deliveries.
We have a network of top couriers including TNT, DPD and GLS.
Book Your Expat Shipment With Irish Parcels
Booking your shipment with Irish Parcels is simple. You do everything online, within minutes.
We will provide you with a list of reduced rate quotes from our couriers and you can choose the one which suits you best in terms of price and speed. Then, all you have to do is fill in your address details and hit the 'book' button.
We'll provide you with labels to print and attach to your item and then we will collect and deliver them quickly for you.
Cheap Expat Shipping
Moving abroad is expensive enough, so don't spend more than you have to when it comes to shipping your luggage.
Irish Parcels has competitive international shipping rates to 200+ countries including Australia, New Zealand, USA, France, Germany and many, many more.
Our prices are particularly competitive for larger items over 2kg and we have no strict size or weight limits, unlike the majority of other shipping services and carriers.
Get a quote from us anytime!
Learn more:
Send A Parcel From Ireland To UK