An Post Service
Key information about sending parcels with An Post.
As well as delivering letters and packages, An Post provides a parcel delivery service across Ireland and internationally for business and personal customers.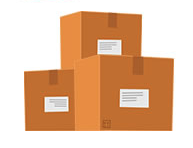 With An Post, anything larger than a letter or a packet is considered a parcel. You can send items weighing up to a maximum of 20kg on An Post's service.
There are four different parcel services to choose from, depending on your priorities in terms of cost, speed and security:
Standard Post – within Ireland. Most cost-effective.
Registered Post – this requires a signature upon delivery and includes a small amount of insurance. Within Ireland and worldwide. Online tracking on specific routes. Most secure.
Express Delivery – guaranteed next day delivery within ROI.

Items under 2kg can be sent overseas fast with An Post's Express Post International service – limited to 15 destinations.

Courier Post – worldwide service with guaranteed pre-noon deliveries in major cities in ROI and guaranteed scheduled deliveries to over 200 destinations worldwide. Online tracking within ROI and some international destinations. Signature proof of delivery and insurance cover included.  
When sending parcels with An Post, customers need to bring their parcels directly to a post office.
International Courier Post
If you have a parcel to send internationally, An Post provides a worldwide service, delivered by An Post and DHL. This is available from limited post offices and you can find your nearest local provider online (links below). Drop your parcel off at the office and pay at the counter.
Tracking is available online, by calling their customer support or through their iPhone app. Delivery times will be specific to each post office and you will need to check these with your local provider.
Prices will vary, depending on the size of your parcel and the location. For example, a 100g parcel sent to Britain will cost from €22.50. However, a 20kg parcel sent to the USA will cost from €360.*
*Prices calculated using information from An Post website. Links below.
Sending Business Parcels With An Post
An Post offers courier services for business users to suit their needs. Whether you're sending just a few parcels per week, or bulk (30 or more) An Post provides a delivery partnership and can pair you with an account manager, specific to your location.
An Post can also offer services for those who need to import and export and for eCommerce specialists.
An Post Alternative
Irish Parcels provides a convenient and cost-effective alternative to An Post. Book and pay for your parcel deliveries online in minutes. No need to queue at a post office!
Door to door delivery within Ireland and to 200+ destinations worldwide. Full online tracking on all deliveries. Using trusted couriers, such as DPD, TNT and GLS. Read more…
Learn more:
Small Business Shipping Solutions
Information sourced on 10/02/2016 from the following web pages:
http://www.anpost.ie/AnPost/MainContent/Personal+Customers/Sending+Mail/Speed/International+Courier+Service/
http://www.anpost.ie/AnPost/MainContent/Personal+Customers/Sending+Mail/Speed/International+Courier+Service/
http://www.anpost.ie/AnPost/MainContent/Business+Customers/Sending+Parcels/?utm_source=parcels&utm_medium=dropdownnav&utm_campaign=Parcels