You know you need to be blogging for your small business, but you have no idea where to start.
Sound familiar?
In today's digital world, blogging for your small business is a no-brainer. In a recent post, we talked through the reasons why your business website should have a blog.
When it is executed correctly, it can become one of the most effective tatics in your marketing strategy. In a nutshell, content marketing through blogging can become a highly effective tool for attracting the right kind of targeted audiences which provide the highest likelihood for conversion into leads and sales.
Not only that, but writing a blog on your small business website creates a new dimension for your brand. It gives it personality and opinion, and most importantly, gives it the opportunity to become an authority. If you're knowledgeable about your industry and are consistently creating helpful content for your target audience, you will soon establish yourself as an authority in their eyes.
It all sounds incredible, right? Nevertheless, the thought of starting a blog for your small business website from scratch can leave you, well, scratching your head.
To lend a helping hand, we're talking through the 4 essential steps you need to take in order to start and maintain an effective blog for your small business website.
Step 1: The Basics
At first glance, the thought of setting up a blog can seem daunting. But believe it or not, setting up your business blog is the easy part. There are a few basic but very important elements that go into making a good quality blog for your small business.
Blogging Platform
Choosing your blogging platform is one of the most important decisions you can make for your blog. Choosing a platform that isn't a good fit for you and your business website means that your efforts could go to waste. So where do you begin?
There are a ton of free blogging platforms out there, such as Blogger, Tumblr, WordPress.com – to name just a few. While all of these options are user-friendly and won't cost you a dime to use, they will limit you in terms of design, functionality, and SEO. Although great as a beginner platform, they aren't so great for long-term business blogging benefits.
The highest recommended blogging platform comes in the form of WordPress.org (note that this is much different to the .com version) as this allows you to create your own self-hosted blog. This gives you more control over your blog in the long-term.
Domain
Once you've chosen your blogging platform, it's important to establish a relevant domain. This will be the URL that is used to access your site and needs to be purchased separately from a domain provider. There are many companies that can offer this, with some of the most popular options being GoDaddy and 1&1.
Web Hosting
Although free to use, WordPress.org requires you to pay for web hosting. There are many different companies to choose from.
Theme
Once you've got everything set up, it's important to consider the overall look of your business blog. With many blogging platforms, including WordPress, you are able to easily customise the look and feel of your blog.
An important aspect to keep in mind is the responsiveness of your blog's theme – you need to be sure that it displays correctly on a variety of devices, from desktops, to tablets, to mobiles. Your audience may drop straight off your site if it does not display correctly on a certain device. And, if your blog is not fully responsive, it may negatively affect your SEO.
Step 2: Content.
At the end of the day, a blog isn't a blog without content. As mentioned before, a business blog can become a highly effective content marketing tool. As such, an effort is undoubtedly required if you want to make it work that way.
What type of content should I share?
At its core, blogging is a highly creative industry. As such, you can be as creative with your content as you see fit. Your blog content might come in the form of text, graphics, infographics, or even videos. It's entirely up to you what kind of content you wish to share with your audience.
However, the two most important questions to ask are:
Who is this post for?
Does this post provide value for them?
The content that you share on your business blog should be of high quality, be worth reading, and should provide value for the targeted audience. Unfortunately, it's no good to constantly write posts that shamelessly promote your brand, products or services as this will provide little value for someone who is discovering your brand for the first time.
Instead, a business blog should serve as a valuable introduction to your brand. As mentioned before, by providing consistently helpful content, you will soon establish yourself as an authority in the eyes of your target audience. As a consequence, they will see your brand as worth their time.
Who should create the content?
When it comes to curating content for your business blog, there are numerous ways in which it can be done. And it doesn't have to be an expensive process.
You may have a blogging team made up of in-house staff, meaning that you have full, convenient control over the content that is produced for your business blog. Alternatively, you may hire freelance writers to publish content for you.
Another option for this is guest bloggers. Someone with an already established blog, relevant to your niche, who can create quality content for you and share it with their audience also may be something worthwhile considering.
How often should I post?
In the world of blogging, it's super important to remain consistent in order to keep your targeted audience engaged and returning for more.
Regularly publishing content at least once a week is a great place to start. It means that your site is always thriving with fresh, exciting content.
Step 3: Promoting.
To put it simply, no one is going to read your blog unless you make the effort to tell them about it.
Relevant readers may find your blog organically when you make use of relevant, searched for keywords within your content. However, as well as that, social media marketing is a super important part of promoting your business blog.
Social media platforms such as Twitter and Facebook makes it easy for readers to discover and share your posts, as it is right there in front of them. Your post may even go viral and reach a high organic audience just through social media sharing. You can also add a social media policy page to your blog to increase your users' trust.
Organic Promotion 
When you publish a new blog post on your business website, don't hesitate to schedule this across your social media platforms, in the hopes that your established audience will click through, and also share this with their own followers.
As well as this, it's important to make it as easy as possible for your readers to share your post. Installing sharing buttons within each of your blog posts means that your readers can share your content to their own social media platforms with just a few clicks.
Again, guest bloggers can come in extremely handy for organic promotion. When they post on your blog, they can share this with their own established audiences, bringing your blog to the attention of fresh batch of relevant people.
Paid For Advertising
Of course, you can always promote your content through paid for advertising through platforms such as Facebook. However, it is super important to ensure you're not wasting your money. If you're not properly creating campaigns, narrowly targeting your audience or effectively optimising your ads – you could run the risk of pouring money down the drain as you won't be reaching the right people nor compelling them to take the appropriate action, eg. like, share or click through to your site.
In a nutshell, it's important to have a strategy behind promoting your business blog through paid for advertising. If it is not measurable and does not result in a profit of some kind, it is not worth doing.
Step 4: Setting Goals.
At the end of the day, your business blog will not become an effective content marketing tool unless you set appropriate goals and measure progress regularly.
To better refine your goals, you can use analytics tools to gain valuable insights. For example, utilising Google Analytics can help you to better understand your audience, their behaviours and what types of content they are searching for. Even more importantly, you will get a clearer idea of what types of content aid in generating leads, and so content will become much easier to create in the long-term.
So there you have it! Our top tips for establishing an effective blog for your business. Blogging for business may require time and effort, and may sometimes be all about trial and error, but as you can see, the benefits that content marketing can bring to your business can be entirely worth it. So what are you waiting for?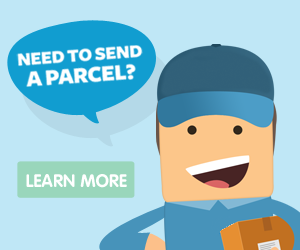 Read more:
The Ultimate Guide To Hashtags For Small Businesses
Selling on Depop – The Ultimate Guide To Making Money
Why Small Businesses Should Collaborate With Bloggers
Learn more:
Irish Parcels – Courier Ireland